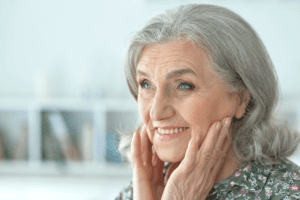 There are many different treatment methods when it comes to getting a winning smile. If you are missing teeth, Freedom Mini Dental Implants can provide some excellent recommendations for restoring your smile with the right treatment. If you opt for dentures in Louisville, Kentucky, you can use dental adhesives to secure the denture. But for a more stable solution, you can choose mini dental implants as a way to keep the dentures from moving around.
Our team of dental professionals is here to help you conveniently get your mini dental implants for your dentures. If you want dentures, but are concerned about how well they'll fit in your mouth, you should look into mini dental implants. They can offer dentures with a secure fit and comfort that other options cannot. The process can be simple from beginning to end. After the procedure, you'll know that you've made the right decision since you won't be concerned that your dentures will slip out when you're eating or talking. 
What Are Mini Implant Dentures and How Do They Work?
Mini implant dentures are a type of dental implant used to support a denture. Unlike traditional dental implants, mini dental implants are much smaller in diameter. They are placed directly into the jawbone to provide support and stability for the denture.
Traditional dental implants are much larger in diameter and require surgery to place them into the jawbone as a large hole – up to a ¼" in diameter – must be drilled into your bone. Mini dental implants are placed using a minimally invasive procedure with no sutures or cutting of your gums.
Benefits of Dentures Supported By Mini Dental Implants
Dentures supported by mini dental implants are a popular choice for many patients. They function well, and they help your smile look great. Here are a few additional benefits: 
Natural Feel 
One of the common complaints about dentures, especially the lower set, is that they can feel loose in the mouth. Even the slightest movements can have a detrimental impact on the person wearing the dentures. It can influence how confident they feel when they're talking, eating, and smiling. 
Mini dental implants are designed to do away with this problem. Instead of the dentures sitting freely in the mouth, the mini dental implants act as anchors. No longer will you need to worry that your dentures will fall out when you're speaking or chewing. They'll be secured to the implants!
Less Invasive Procedure 
Unlike traditional implants, dentures supported by mini dental implants require only a minimally invasive procedure. This means the healing time is much shorter.
Long-Term Solution 
Once they're fitted, you'll find that you can enjoy your dentures and the mini dental implants for many years to come. It's a long-term solution that can significantly enhance your overall quality of life. 
More Affordable 
Mini dental implants with dentures are a more affordable option because they require less hardware and a minimally invasive placement procedure. Traditional implants used to support a denture typically have two main pieces, the post and the abutment, while mini dental implants only have one piece, the post.  
Placed In An Office Near You
If you live in Louisville, Kentucky, Freedom Mini Dental Implants can place your mini dental implants for your dentures near you. After your consultation and a visit to place the implants, you will be on your way to having a functional, healthy new smile!
Mini Implant Supported Dentures in Louisville, KY
If you want to look into mini dental implants for dentures in Louisville, Kentucky, get in touch with Freedom Mini Dental Implants and Dr. Ackerman. We have many years of experience in helping people just like yourself. From the first moment to the last, you'll find the process smooth and comfortable. You can call us at (502) 937-4930 or get more information by filling out the form on our contact page.