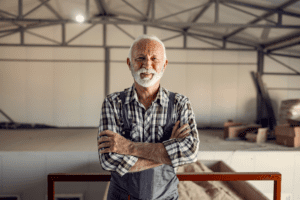 At Freedom Mini Dental Implants, we offer a range of mini dental implant services in Louisville, Kentucky. You may wonder about the difference between dental implants and mini dental implants. Mini dental implants have a smaller diameter than traditional dental implants. But what else? Are there benefits of larger dental implants versus mini dental implants? The truth is that both provide an effective solution to broken teeth or tooth loss. However, mini dental implants are more compact and less invasive and may be a better option for patients.
What Are Dental Implants and Mini Dental Implants?
Large and mini dental implants are an effective solution for missing teeth, and they can improve the function and appearance of your smile. They are titanium posts that are placed in the jawbone to support artificial teeth. They are a permanent and stable solution for missing teeth, and they can be used to support a single tooth, a dental bridge, or a full set of dentures. 
Both large and mini implants are made from biocompatible materials, and they fuse with the jawbone over time to provide a secure foundation for artificial teeth.
Dental Implants Versus Mini Dental Implants
A main difference is that mini dental implants are smaller in diameter than the traditional version, even though they may be the same length (or even longer.) This makes them available to patients with insufficient bone density (also known as a thin bone or ridge) to support a standard implant. This can be a common issue with tooth loss. 
Also, a large dental implant requires what is known as an abutment, which holds the crown in place. In the case of mini dental implants, this is unnecessary because they combine the piece that attaches to the crown or dentures and the root that attaches to the jawbone. 
The Benefits of Mini Dental Implants
There are several benefits of both mini and traditional dental implants. Both are permanent solutions to lost or broken teeth and effectively restore your smile. Losing a tooth can affect your self-esteem, health, and bite functionality, and dental implants are an excellent way to regain your smile. 
Further, implants mimic a natural tooth root. This has several benefits, including preventing jawbone deterioration resulting from the lack of stimulation where the tooth is lost. And the crown or dentures placed on implants have a natural appearance, so your new tooth will fit perfectly into your jawline and match the rest of your teeth. You won't even know the post of traditional or mini dental implants is there, and you can eat, drink, and speak normally. 
Mini dental implants have all the benefits of large implants and more! Mini dental implants are often used to support dentures. This helps patients feel more secure in their dentures when eating and drinking because the dentures can't slip. Their smaller diameter means they require less supporting jawbone – they offer a new alternative for those without sufficient bone density to support larger implants. This means that it's possible to provide a solution to more patients and help them achieve the smile they've always wanted. 
They're also more affordable than large implants. This is because they are smaller, have less hardware, and require less installation time. Mini dental implants are also a minimally invasive procedure, making recovery time quicker for the patient. 
The Large Benefit of Mini Dental Implants
Mini implants are a smaller, less invasive, and more cost effective solution than large implants. Speak to Dr. Ackerman to find out if they'd be a suitable option for you.
At Freedom Mini Dental Implants, we are the experts in mini dental implants! Contact us today! We'll book a consultation to help you find the best treatment for your dental needs and goals. Our friendly team can't wait to show you what we can do for your smile.